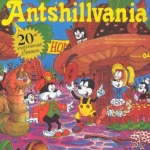 This is the first part of the Ants'hillvania, two CD set. Written by: Jimmy and Carol Owens with Cherry Boone O'Neil.
Featuring: Candle
Antony: Wendell Burton
Comandant: Pat Boone
Millicent Millipede: Jamie Owens-Collins
Storyteller: James Hampton.

Selecting the 'Buy' button will take you to 'iTunes', where these songs can be purchased!



(purchase on external site)