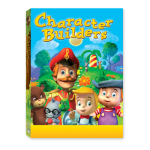 For years thousands of families have enjoyed teaching their children godly values with the heart-warming Character Builders series from Alpha Omega Publications (Originally an Anthony Paul production released on the Birdwing label.)

These classics have now been remade in state-of-the-art animation for today's generation to enjoy. Families will love the same enduring stories and songs of Stevie", Nancy", and The Conductor" in Agapeland and, through cutting-edge technology, each character will come to life to captivate today's child as never before!

Selecting the 'Buy' button will take you to 'Alpha Omega Publications' where these songs can be purchased!



(purchase on external site)