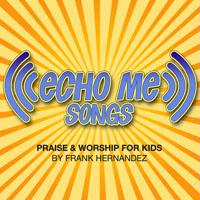 *Echo Me Songs - Praise & Worship for Kids
Frank Hernandez

His & Hernandez Music

How do you get kids to sing praise and worship songs right from the very first line? Especially if it's a new song, or they're too young to read the lyrics? Here is a new collection of praise and worship songs written especially for elementary and preschool-age kids. Try them... sing them... Your kids will join right in!

Scroll down and click on the song titles below for LYRICS and more DETAILS.

If you'd like to hear more 'Echo Me' songs on a different project, listen to the following songs on 'Kids In Worship' - A Gift To You, For All You Do, He's My Best Friend, and Jesus Is The Rock!
Songs