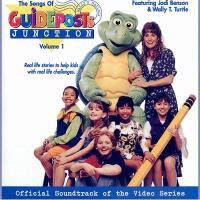 Songs of Guideposts Junction
Jodi Benson

No longer available

This is a compilation of songs produced by Frank Hernandez for the Guideposts Junction DVD series, featuring Jodi Benson (well known as the voice of Disney's 'Princess Ariel' in The Little Mermaid and its sequels.)

These heartwarming and inspiring Guideposts Junction stories will serve to help kids who are on their individual paths to fulfilling their own potential. Using actual letters written in to GUIDEPOSTS MAGAZINE, Jodi Benson, Wally T. Turtle, and their friends tell stories that illustrate how to live according to the Bible. They make the whole experience great fun through the incorporation of song, dance, and honest discussions.

The videos are not available on this site, but the songs are! Scroll down and click on the song titles below for LYRICS and more DETAILS.

Songs
Guideposts Junction (Theme)
| Listen |
God Is Always There For You
| Listen |
It's The Little Things
| Listen |
Oh, He Cares For You
| Listen |
The Mouth God's Given You
| Listen |