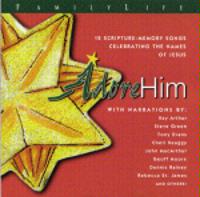 Adore Him - 12 Songs Celebrating the Names of Jesus

Straightway
Help your child adore Jesus with 12 fun, easy to learn scripture memory songs. 'Adore Him' will teach your children more about the character of our Savior through these songs that symbolize the many names of Jesus in scripture. Includes narrations by: Kay Arthur, Steve Green, Tony Evans, Cheri Keaggy, John MacArthur, Geoff Moore, Dennis Rainey, Rebecca St. James and other!

Produced by Christopher Norton
All songs written by Frank Hernandez

TRACK LIST
1. I Am The Door
2. Give Me A Drink
3. The Good Shepherd
4. God With Us
5. The Bright Morning Star
6. I Am The Light Of The World
7. Behold, The Lion
8. I Am The Bread Of Life
9. I Am The Vine
10. Behold, The Lamb
11. King Of Kings and Lord Of Lords
12 The Savior Of The World

Selecting the 'Buy' button will take you to 'iTunes' where these songs can be purchased!

Songs
Sorry, there are currently no songs available to listen to.