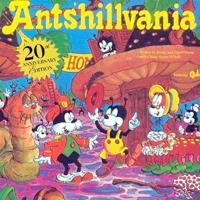 Ants'hillvania
Jimmy & Carol Owens


This is the first part of the Ants'hillvania, two CD set.

Written by: Jimmy and Carol Owens with Cherry Boone O'Neil.
Featuring: Candle
Antony: Wendell Burton
Comandant: Pat Boone
Millicent Millipede: Jamie Owens-Collins
Storyteller: James Hampton.

TRACK LIST
1. Ants'hillvania
2. Work Song
3. Independ-Ants Song
4. All It Really Is
5. Mr. Worm
6. Seeds
7. The Choice Is Up To You
8. The Toast of the Town
9. The Riddle
10. Repent-Ants Song
11. Come On Home
12. Ants'hillvania Reprise

Selecting the 'Buy' button will take you to 'iTunes' where these songs can be purchased!

Songs
Sorry, there are currently no songs available to listen to.